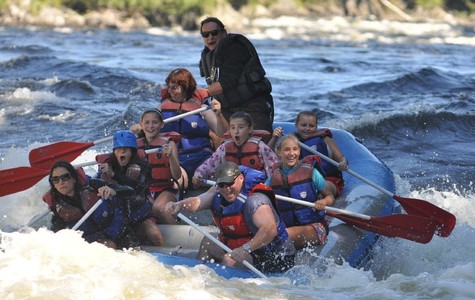 Cheap Thrills
Always wanted to add a whitewater rafting trip to your "must do" Maine vacation list but couldn't find the time or squeeze it into your travel budget? Magic Rivers has designed a whitewater rafting trip on the Kennebec River just for you! Trips are subject to availability. Call 1-800-207-7238 for availability.
Cheap Thrills
No Frills, Just Thrills for $49
Arrive at Magic Falls Base Camp at 9:00 am
Gear up with a personal flotation device, paddle and helmet and whitewater orientation
Magic Rivers will transport you via the Magic bus to the Harris Station Launch site.
A licensed Maine Whitewater Guide will guide you through the Class III-IV whitewater of the Upper Kennebec Gorge from Taster Rapids, the Three Sisters, Upper And Lower Alleyway, Z Turn, and culminating at the Kennebec's most famous, pulse pounding rapid-Magic Falls.
You'll take out after paddling though the big waves of Dead Stream Rapids at Carry Brook

*

at the end of the Kennebec's Upper Gorge.
The Magic bus will transport you back to base camp.
Around 1:00 pm you'll be back at base camp where you can take off for your next Maine adventure. If you have packed your own lunch and refreshments, feel free to have lunch at our picnic area and enjoy some of our other recreational amenities.
Reservations must be made at least 24 hours in advance. Minimum age 10. All our trips are subject to availability. We will endeavor to combine passengers from different parties and full day trips to help insure trip availability. A fee of $7 per person will be charged for the State of Maine Access levy. Rentals of wetsuits and booties are

not

included.
*

Please note that the take out at Carry Brook requires a climb of 90 feet out of the gorge. The wooden staircase has rest stops along the way. If you prefer an hour and half additional float out please indicate your preference at the base camp check in.
Reservations may be made on-line or by phoning 1-800-207-7238.
"This was my third time rafting with Magic Falls since with my mom and my wrokplace in the 90's. My husband rafted with Magic Falls (with Dave as his guide) with his dad almost 30 years ago. We were so happy to be able to introduce our son to this amazing experience. What a treat to have Dave be our guide after so many years. You guys are awesome!
"
- Rebecca L. June 2022
"Thank you for a fabulous weekend! The lodge was super. The raft ride was thrilling! The food after ride was excellent! 5 stars all around! Great job and I hope to make it back up there again."
- Melody, June 2020
"Just wanted to let you know that my friends and I had such a wonderful weekend at your place, they want to go back in August! It's sounding like our group will be even bigger because word-of-mouth has caused more interest. Your team made us feel welcome and safe. Kudos to Sean for leading the way...and for plucking me out of the river twice!!!
"
- Nancy, Rhode Island
"What an amazing time! This was our first time! It was high water and the rapids tremendous- needless to say we were nervous. Chris was the best guide. He made us feel safe and comfortable, was friendly, knowledgeable and super helpful! The BBQ was perfect and all the staff friendly, patient and helpful. We stayed at the Inn - conveniently located right next to starting point, comfortable and a great view.


"
- Christine G.