Maine Rafting for Scout Groups
A Great Way to earn your whitewater merit badge
Magic Falls Rafting Company offers a variety of packages from one day rafting trips to Scout Merit Badges in whitewater and rock climbing. Choose the one that is right for your Scout group or complete our on-line trip planning form to receive a detailed trip quote via email.
A Yelp Review from a happy scoutmaster:
We took a troop of boy scouts up for an unforgettable rafting trip down the Kennebec river. Our guide Pebbles had terrific knowledge of the river and we had an amazing day. The rapids at the top of the run were class 4, and plenty challenging for all of us. She made the trip really exciting, taking us right into the rapids for direct hits on the biggest waves. The trip was a true adrenalin rush and a perfect way to spend a gorgeous September afternoon. We stayed in the cabin tents, which were actually pretty comfortable. There's one outlet and a light, which is a nice touch, but if you're thinking about charging a bunch of things you may want to check and see if it's OK to plug in a strip. The lunch after the rafting was delicious. We had the steak with mashed potatoes, cole slaw and homemade apple cake. Would do this trip again in a minute!
1. One Full day of Whitewater Rafting on the Kennebec or Dead River. This includes all safety equipment, wetsuits (if needed) and a full BBQ...Kennebec (10 years and Up) $79.00 p/p Kennebec High water releases (12 years and up) $79.00 p/p; Dead River (12 years and Up) 89.00 p/p
2. One full day of whitewater Scout Merit Badge instruction (13 years and up). Whitewater fun yak training in the morning. This includes basic reading of whitewater, paddling and safety instructions, and basic river rescue training. In the afternoon test the skills you've leaned. We will be funyaking in the fun yaks on the lower Kennebec River in class 1-2 rapids. Lunch is not included. $39.00 p/p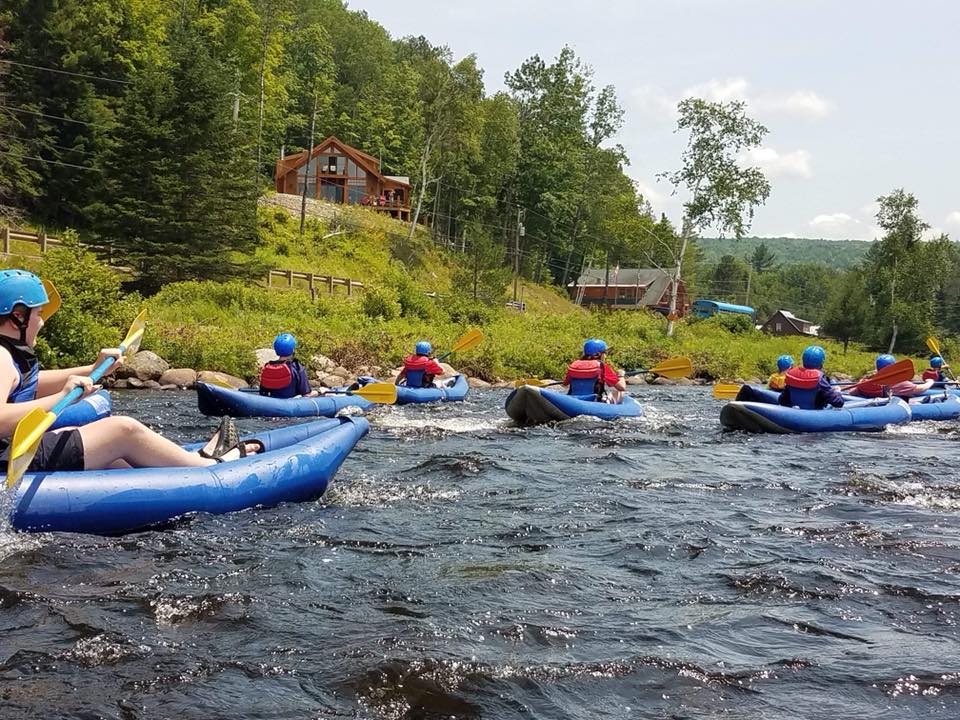 3. Just for fun. (10 years and UP). Go tubing on the calm stretch of the Kennebec River. Swim, play and just have fun. $25.00 p/p
Overnight camping and meal options;
Campsites* $18.00 p/p
Cabin tents** $23.00 p/p
Full Breakfast $ 12.00 p/p
Continental Breakfast $ 6.00 p/p
BBQ or Spaghetti Dinner $ 12.00 p/p
Pizza Party $ 12.00 p/p
* Bring own camping equipment. ** Bring own sleeping bag and pillow.
A user fee of $7.00 per person for the Kennebec trip and $15.00 per person for the Dead River trip will be assessed to cover the Maine Inland Fisheries & Wildlife levy and road access fee.
Contact us to plan a white water rafting trip, rock climbing or kayaking trip for your youth group. Or, do it the easy way and design your trip with our on-line trip planning form.
1-800-207-7238
"Just wanted to let you know that my friends and I had such a wonderful weekend at your place, they want to go back in August! It's sounding like our group will be even bigger because word-of-mouth has caused more interest. Your team made us feel welcome and safe. Kudos to Sean for leading the way...and for plucking me out of the river twice!!!
"
- Nancy, Rhode Island
"The entire family said this was something they want to do again, and we'll be using this company again to do it. Very family friendly and fun for everyone.

"
- Elizabeth, Sept 20
"What an amazing time! This was our first time! It was high water and the rapids tremendous- needless to say we were nervous. Chris was the best guide. He made us feel safe and comfortable, was friendly, knowledgeable and super helpful! The BBQ was perfect and all the staff friendly, patient and helpful. We stayed at the Inn - conveniently located right next to starting point, comfortable and a great view.


"
- Christine G.
"Hi Team,

I went on the Dead River yesterday with Justin as our guide. I wanted to let you know how much fun we all had. Justin was great and so was all your staff! Thank you for helping us make memories for our family.

"
- Frank, Massachusetts