Raft Rentals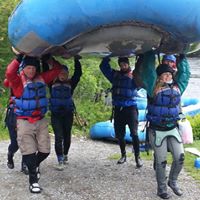 13-15 foot raft rentals: Bring a group of friends and Do-It-Yourself in a self guided trip on the Kennebec. A sport boat holds 6 rafters and a guide. It is a very maneuverable raft for lots of fun on the river. A 15 foot raft holds 8 passengers. Just $200 per day. The raft rental is for paddlers with whitewater guiding experience. For reservations call 1-800-207-7238.
We provide your party with personal flotation devices and paddles. We will bring the sport boat to the launch site at the dam and pick the raft up at the end of your trip. We reserve the right to cancel a raft rental due to unanticipated water levels or weather conditions.
Rental policy: Advance reservations required to insure available equipment. Cancellations at least 5 days prior to the trip will receive a full refund. Reservations made within 7 days of the trip are non-refundable. A rental agreement and waiver form must be completed in advance of the trip. A rental damage deposit of $300 per boat will be held via credit card authorization until the equipment is returned at the end of the day. No shows at the dam will be charged $100 per raft. Rafts must be returned to the take out by 4:00 pm. A late fee of $25 per hour per boat will be assessed. Lost or damaged equipment fees:
Personal Flotation Device $65.00
Paddle $ 15.00
Helmet $10.00
Raft Repair $65/hour plus materials
"What an amazing time! This was our first time! It was high water and the rapids tremendous- needless to say we were nervous. Chris was the best guide. He made us feel safe and comfortable, was friendly, knowledgeable and super helpful! The BBQ was perfect and all the staff friendly, patient and helpful. We stayed at the Inn - conveniently located right next to starting point, comfortable and a great view.


"
- Christine G.
"Just wanted to let you know that my friends and I had such a wonderful weekend at your place, they want to go back in August! It's sounding like our group will be even bigger because word-of-mouth has caused more interest. Your team made us feel welcome and safe. Kudos to Sean for leading the way...and for plucking me out of the river twice!!!
"
- Nancy, Rhode Island
"
I have been rafting twice with Magic Falls. The owner Dave has been our guide both trips! He's left a great impression on my friends and me. This company is exceptional. They make you feel right at home and the guides have great senses of humor. The staff are well trained and the meal you get at the end of the trip is great! We are 100% loyal to Magic Dave's White Water Rafting Company!


"
- Missy M July 2021
"The entire family said this was something they want to do again, and we'll be using this company again to do it. Very family friendly and fun for everyone.

"
- Elizabeth, Sept 20